Euro NCAP safety ratings: Fiat Tipo - it's cheap, but is it safe?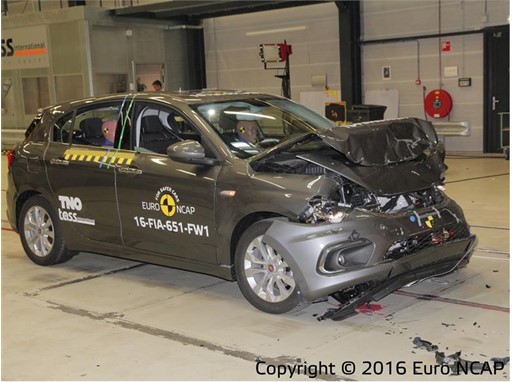 Brussels, 26th October 2016 – The latest Fiat Tipo recently underwent safety testing by Euro NCAP and was awarded 3 stars based on safety equipment that is standard across all versions of the car. When tested with an optional safety pack, the Tipo achieved 4 stars.
The Tipo was tested under Euro NCAP's dual rating system, which allows two star ratings for the same vehicle: a base rating which indicates the safety of the car fitted only with standard safety equipment, and, if the manufacturer wishes, a second rating for the car fitted with an optional 'safety pack' that is offered on all versions, is available in all markets and sold in significant numbers. The dual rating lets consumers see the improvement in safety which can be achieved by the additional crash avoidance equipment.
The Fiat Tipo's safety pack "Pack Safety" includes a Forward Collision Warning system with Auto-Brake that functions at both low and high speeds, but has not been designed to mitigate pedestrian crashes. Euro NCAP's Secretary General Michiel van Ratingen says: "The Tipo is marketed as a functional car which maximizes value for money. However, to maximise safety, and to bring the car up to the protection levels offered by its biggest rivals in this segment, consumers should not pass over the safety pack."
AEB Pedestrian was introduced earlier this year. These systems are able to act in more challenging situations where pedestrians are at risk of being run over.
Detailed results and crash test pictures of this car are published on our 
website
. All videos are available on our 
YouTube channel
 and the 
Newsroom
 for journalists. For media requests, please contact
media@euroncap.com
. More safety ratings will be released on November 30, 2016.
CONTACTS
Cordelia Wilson

Media Advisor

United Kingdom

+44 7857 915 964